"Nothing Is In Vain" music video is finished
The timing couldn't have been better. Just when we scored 4,000,000 YouTube views we were ready to release the music video for "Nothing Is In Vain". As you know, it was the last song on our album "When We're Together" to get a video, and we went the extra mile to make it a worthy final highlight of the whole project.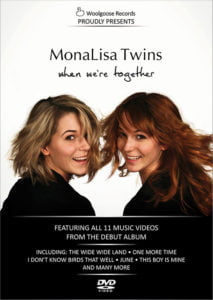 Actually, we went a few thousand extra miles when we traveled to outer space to shoot the footage. The video for this tune is out of this world, so to speak, and the visual atmosphere enhances the psychedelic feeling of the song. We're over the moon to say that with finishing this video we will be able to re-release the whole album as a DVD, together with exclusive bonus footage and behind the scenes clips. The DVD will be available in our web store very soon and we'll inform you on that in a separate newsletter.
We've been working on the "Nothing Is In Vain" video for more than a year now, collecting and shooting footage between other projects. We shot scenes underwater and on the trampoline, and you'll see planets explode and giant goldfish swim through the universe. Enjoy your trip through space – completely without drugs, just music – and let us know how you liked it.
Stay groovy,
Mona & Lisa