Happy Thanksgiving!
Here in England we are not celebrating this American tradition but we still want to use this day to say a big thank you to all of you! Besides the core MonaLisa Twins team and some supporters in the industry it is YOU lovely people from all over the world who make living our dream possible every day! You can all pat yourself on the back and then imagine a virtual MonaLisa hug from us. We are very thankful for having you as our fans and friends 🙂
Making-Of Video of "Nothing Is In Vain"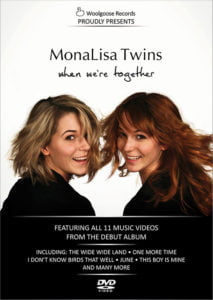 As a little treat we just uploaded the making-of clip of our new single "Nothing Is In Vain".
It features on our newly released DVD "When We're Together". We've been working on the "Nothing Is In Vain" video for several months, collecting and shooting footage between other projects. We have never filmed anything underwater before nor on a trampoline, but it was a blast. You'll also see planets explode and giant goldfish swim through the universe. The editing was challenging but worth it, and in this making-of video we show you how we did some of the special effects.
It will be the last behind-the-scenes clip of this DVD that we will publish on YouTube. So if you want to see how we created the rest of our music videos make sure you get a copy in our online store.
We thank you an aweful lot for your great feedback so far,
Mona & Lisa