Last week, on 22nd January 2015 to be exact, we played our Half Moon Showcase concert. Since then we received so much nice feedback from all kinds of people. Here's our photo story to resume the event and that special atmosphere of the night. It's just a first quick review, for most of our fans know that there's no MonaLisa Twins event going down without lots of video footage produced. It will take us some time but watch out for a video-diary we intend to post later down the line.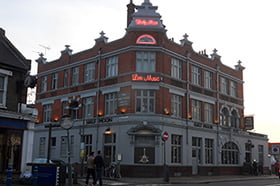 First of all it must be said, the "Half Moon" in Putney, London, is a beautiful venue run by lovely people who clearley understand their business. It is one of London's longest running and most respected live music venues. Since the early 1960s, some of the biggest names in popular music have performed there, including The Rolling Stones, The Who and U2. The venue has hosted live music every night since 1963. They are a regular pub too, with excellent cuisine.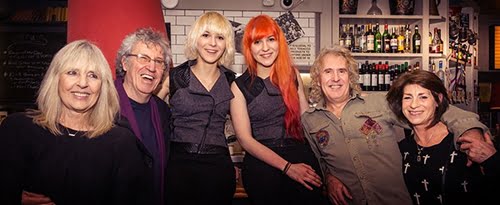 We got there at 11am for the set up and sound check. Together with the local sound engineer our dad did the live mixing, for the first time with a mixer remotely controlled by an iPad. He could walk around the venue and optimise the sound from every angle.
Meanwhile, outside in the pub, early visitors Steve Grant (The Sweet, The Animals) and his wife Deena Payne (Emmerdale's finest actress) and also John and Barbara Cameron arrived. John is well known for his contributions to pop recordings by Donovan, Cilla Black and the group Hot Chocolate as well as for musical productions around the globe. (photo: Camerons left, Grants right)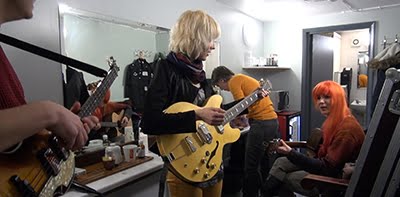 At around 5 pm a coach pulled up outside the venue to release 50 fans from Northern England. They have come all the way to support us and to hear our "When We're Together" debut album originals live for the first time.
And then people arrived from Ireland, Belgium, Scotland, Austria and the USA. Some of our biggest and longest supporters from Florida and Arizona flew in to London to be there with us for our great night. Many of them we knew were coming but some took us by surprise entirely.
It was such a joy meeting these people we've been in contact with for years, since our very beginnings when we started out with the music at the age of 13. What an enormous back-up to have – we felt greatly motivated to give our absolute best, even though Lisa was fighting fever and a sore throat.
Over the afternoon excitement was building up. Back in the dressing room we were going over the harmonies for our songs "Dreams" and "Nothing Is In Vain" one last time, two songs that weren't composed for just a 4 piece band. We had to re-arrange the songs quite a bit, and if you want to present your original work to a YouTube spoilt audience and critical industry people, you better want to give your best.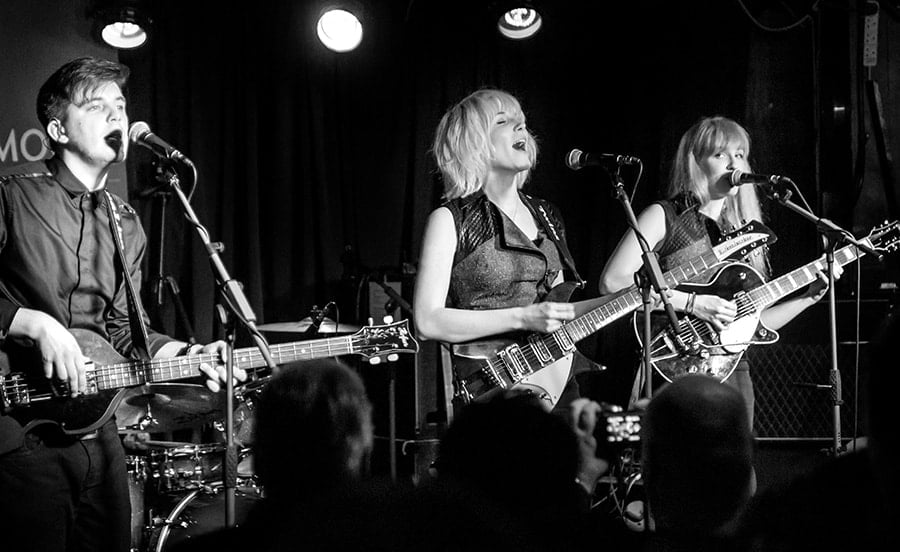 The lights dimmed and the DJ's music faded out. Time for us to enter the stage and play our first song 'This Boy is Mine' to a jam-packed room with people happily smiling and singing along. Those who didn't know our songs yet listened attentively and soon got carried away by the groove, too. We relaxed, had fun and gave our best. We continued with a mix of original songs and covers, and we finished off with 'Johnny B Goode' and 'My Generation', before playing an encore. 
Very happy people on stage and in the audience likewise. Meet & greets followed, as we were taking pictures with people, signing our albums and talking about future projects.
All too soon it was midnight and the fan bus absorbed the warriors from the North to bring them back to Liverpool again. They had a 4 hours' drive to go, some of them even additional train rides as far as to Scotland. Many took the Friday off, just to be with us for that night. Others we met again at the Liverpool Cavern Club for our Saturday residency before they took their planes back home.
We all share great memories of a night full of joy, music, laughter and love. For us even more spiced-up with the feedback we received after the show:
Daniel Wiles, producer from 'The South Bank Show' documentary series: "Stupendous. Absolutely stupendous. They are rocket ships!" 
Mike Quinn, one of Britain's top DJs for the BBC in the Sixties, still an influence in today's business, has been making positive comments about our music on his Facebook page. He has worked with The Beach Boys, Scott Walker, Gene Pitney, The Who, Jimi Hendrix and the Bee Gees to name but a few. He and his daughter clearly enjoyed our show, and we had a lovely chat and photos afterwards.

The BBC film crew who have been filming for 'BBC Breakfast' came over and commented with "Cracking gig!"
Mark Aiken, Hollywood star of Kiefer Sutherland's '24' and 'Charmed' said: "Good God! That was earthshaking. I loved it." 
In the audience as well was Greta Nice, Steve Harley's daughter. Steve (from Steve Harley & Cockney Rebel) couldn't come to the show that night, so he sent his daughter to get her feedback. He's planning things that we think we will like very much. But that's a story for another post.
Stay tuned,
Mona & Lisa