Today we are releasing our first ever official DVD
It contains all the videos for the original songs of our debut album "When We're Together". It also has more than 30 minutes of exclusive bonus footage and behind-the-scenes material by which we're talking you through the process of creating each one of the 11 videos!
More than two years after releasing the album CD we are proud to have finished this monster project. Not many artists can say that they have made a music video for every single song that they have put out on CD but we are beyond happy that we did! Before we release new original material we wanted to once again celebrate our debut album and give all the videos the proper packaging. Plus, it's the perfect Christmas present, isn't it?
Pssst! Santa's in town already!
In fact we saw TWO of them in Liverpool today, giving their everything to escape the fans that somehow had found out about the new MonaLisa Twins DVDs. We immediately whipped out our cameras and filmed these poor guys running for their lives to save some of the DVDs and stuff for you. Here's the proof. So be quick, don't say nobody warned you!
X-Mas Special: – 10 % in our Web Shop!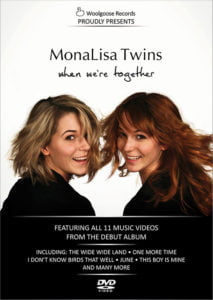 Cash in your "XMAS2014" discount code until 24th December 2014!
The Christmas season is an excellent time for us to thank you for your long-time friendship, loyalty and continuous support. Without you making music would not be half the fun that it is!
So here's our Xmas present for you: If you are looking for a Christmas gift or want to buy a little something for yourself, you'll get 10 % discount on everything in our web shop until 24th December 2014. So feel free to empty our stock and give our new DVD, our CDs, T-shirts, coffee mugs, mouse pads and posters to everyone you know!
All you have to do is type "XMAS2014" in the "Discount Code" bar after you checked out with your shopping cart and then click "Apply Coupon". The discount code will work till the 24th of December 2014 and you can use it not only once but TWICE (just in case you forgot something ;)!
We wish you and your loved ones a very Merry Christmas,
Mona & Lisa