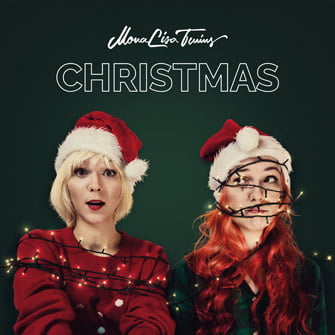 It has become somewhat of a tradition for the MonaLisa Twins to release a Christmas song for their fans every year. For the holidays season of 2019 they decided to take it a step further and release a full-length album, simply titled CHRISTMAS. It includes interpretations of some of their favorite holiday songs ranging from John Lennon's "Happy Xmas (War Is Over)" to some (translated) traditional German ballads they grew up with.
The album also features the brand new original Christmas song "All I Want Christmas To Be" which got instant terrific feedback from their fan base and music world alike. Testimonials, a track list and an audio player can be found further down this page.
Mona and Lisa Wagner's perfection of sibling harmonies, guitar focused musical minds, and their deeply rooted love for the classic 60's style sound reflects in the arrangement of many of the songs on CHRISTMAS.
With its fair share of jingle bells, tight harmonies and tranquil moments the album is definitely "Christmassy" but it also includes a lot of tongue-in-cheek lyrics, quirky instruments, and jazzy vocal and guitar parts that made for some more "out there" arrangements.
Stream/Download CHRISTMAS
"They're fabulous, sure as you're born!"
"The MonaLisa Twins? Wonderful music."
"Dese guys are gud. 2 talented, musical, happy, gud looking blonde & orange chaps, who not only play their own instruments, but also have close Everly Brother style harmonies that close sisters do so naturally. They'll go far."
"They are a breath of fresh air in the relentless sludge of today's pop music."
Original Single -
All I Want Christmas To Be
'All I Want Christmas To Be' is MonaLisa Twins' Christmas original. It's a song about early childhood Christmas magic, and about their feelings and experiences growing up in wintery Austrian Christmas tradition … a very personal addition to this album, otherwise filled with interpretations of well-known holiday songs.

A music video for this song will be released on YouTube on December 1, to add to their already published Christmas videos of past years, two of them being …
Have Yourself A Merry Little Christmas
The MonaLisa Twins, with 25-year-old actual twins Mona and Lisa Wagner fronting the band, are one of the very few modern groups who continue the tradition of song-writing that took off in 1963. They bring back what has been started 50 years ago and write modern songs in the 60s Beat music tradition, reviving the genre with a fresh twist without sounding pop-ish or trivial. Their signature features are their close harmonies and wiry, bright guitar sound, and the mix of humour and depth in their music speaks to a wide range of international audiences.
They were born into a country (Austria) that celebrated classical and folk music and which was rather detached from the humorous, easy going 60s spirit you associate with England or the States. They picked their parents wisely though. Their father is a musician/song-writer himself and, during the 80s and 90s, was running a recording studio producing renowned (inter)national artists including a Grammy winner. Together with him and their step-mother they fully concentrated on the Twins' music and over the years built up a full-time family business.

10 years, 8 albums, 100+ music videos, 34+ million YouTube views, 100,00 subscribers and a lot of blood, sweat and tears later, they are living and working in Liverpool/UK. With a host of live shows in Europe, the UK, USA and Australia, a recording session in Abbey Road Studios, a UK tour with Steve Harley & Cockney Rebel, a 2-year long residency at the legendary Cavern Club, regular features on BBC and international radio stations, a Glastonbury performance and collaborations with Woodstock legend John Sebastian under their belt, they have come a long way since daydreaming about the future at the age of 13.

What they are most proud of? They did it their own way. Every video they released, every song they've written, every album they put out, every blog post on their social media, and even their website comes from the collective brain juice of their small but mighty team. That doesn't mean at all that they don't want or need the help of other people, but it means they're willing to work twice or thrice as hard so they don't have to give away their creative freedom or values for any short-term success. They created their own label and took DIY to a whole new level.


If you, too, love and treasure the quality song-writing and positive, witty spirit that exploded in the Sixties, the MonaLisa Twins might be the band you've been waiting for for the last 40 years. 
Fan Testimonials (about ORANGE)
"There are literally hundreds – probably thousands – of Christmas albums in existence. The majority of them simply copy the same songs that every other Christmas album has copied. The better ones might have one or two stand out tracks … I pre-ordered my copy within minutes of getting the email that told me I could. I can't remember EVER looking forward to an album's release more!"
Little Drummer Boy




Have Yourself A Merry Little Christmas

"I hate Christmas music with a passion. But your Christmas CD is awesome! I would never have expected anything like that !!! "Silent Night" – amazingly beautiful ! Also "Walking In The Air", "Drummer Boy" and "Santa Baby". John Lennon should hear your "Happy Xmas" version. Top-notch ! And the little German surprise in "Snow Falls Softly …" such a nice touch."

"I


MonaLisa Twins
Building 7
Wilson Business Park
Monsall Road
Manchester
M40 8WN