We are very well in the trade!
Another weekend with two great conerts – this time at Mamas Bar in Kirchberg/Wechsel and at Groß-Enzersdorf Town festival!
Mamas Bar in Kirchberg/Wechsel, Lower Austria is a very nice and comfy venue with a really cozy bar room and a beautiful new open-air lounge and bar (see picture above). Owner Max and barkeepers Blaze and Michael were funny, smart and cheerful the whole evening which rubbed off on the guests. Never before have we been so generously hosted with food and drinks and mood-support like here at Mamas Bar. The audience and atmosphere were also great and we felt very homelike. We are really looking forward to coming back! In fall/winter we will likely play there again, so if you are from this area make sure to check our live schedule regularly to not miss a new date.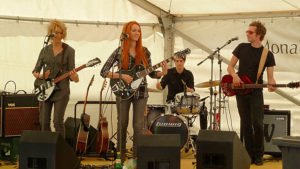 On Saturday we put up our "new" (used) big JBL sound system for the first time, namely in the big festival tent which was built up in the large castle yard of Groß-Enzersdorf. We were a bit lucky to play there at all. Actually we wanted to play a private concert at City ballroom, right next to the castle yard. But the city festival was on the same day, so their musicians and we would have played "against" each other.
Thank God the festival organizer yet needed a band for the afternoon and we got booked. So everyone was happy, and this way many more people got to see and hear us. Now we are well known in our hometown, and many new bookings got initiated.
For more concert pics please visit our Facebook page.
Thank you,
Mona & Lisa