Howdy! Just a quick Sunday resumé from our first week of touring before we're heading off to 'The Dome' in Doncaster tonight. It's quite unusual for us to write from two different perspectives at the same time – as 'Steve Harley and Cockney Rebel' band musicians and as MonaLisa Twins who are presenting their own songs within the same concert.
Generally we're simply happy with how great everything is moving and grooving. Playing a show every night in a different venue for a different audience is new for us and very exciting. Of course we are used to travel for days with lots of gear and technical equipment. We also played grand stages already but that was only for single concerts so far, not within a big tour setting.
Sitting in a tour bus, chatting with world-class session musicians and listening to their fascinating stories about their experiences in the music business and their work with some of the biggest acts – that literally feels like a ride on the 'Magical Mystery Tour'.
Each of the symphony halls we're playing has its own unique atmosphere. Each audience interacts differently and, together with Steve and the band, creates its own magic night. Yesterday for example we left quite emotional as people were still singing after we had left the stage. Goosebump moments!
No two shows are ever the same since Steve likes to surprise his fans with slightly altered arrangements, improvisational parts and new anecdotes between the songs. Many of his fans are coming to see two or more shows, and they appreciate hearing songs or different versions of them on this tour that they probably won't ever be able to hear live again.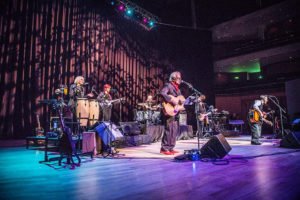 From the MonaLisa Twins point of view we can only say that Steve is very generous to introduce our own music to his audience and to give us two prominent spots during his sets to play our originals. This kind of support for a newcomer band is very unusual and we're very proud and thankful for this opportunity to get heard by thousands of his fans throughout the country. We think it's very kind of his fans, too, to give us their full attention during the show, and many of them even take their time afterwards to write us appreciative messages or share our videos with their friends. This is the real thing and so much better than any 'XY-factor' vote could ever be.
We're off to sound-check now, so we'll leave you with some fan reviews of the concerts. We hope that will inspire some of you who were thinking of buying tickets. Please go ahead an grab the last remaining seats. We're confident to say you won't regret it.
'Really special in Manchester. The twins are a wonderful addition to great rock band . Their harmonies were spine tingling. Especially on Sebastian and Compared With You. Lisa's guitar playing was superb, and she got lifted higher and higher by the Great Jim Cregan . There are lots of memorable moments in this show. And the girls play one song in each set, not at all to give anyone a rest, i don't think!!!! Steve is obviously priud to have discovered them and to introduce heir solo spots. If you're a fan, you won.t want to miss this tour. Fantastic programme 52 pages too.'
Jollyroger

'I came from Frankfurt and was glad I did. The show, generally, was exceptional. Re band, Best Years in total and in sequence, the Twins in the band AND in support – some people have missed the point, SH ACTUALLY introduces them as a sort of "Support Band", but with a difference, they are IN THE BAND. The girls play leas than 10 minutes in a show lasting, in playing terms on stage, two hours twenty minutes of their TWO songs. Good on SH for introducing young talent to us oldies, especially two such brilliant musicians. Anyone who plays that side down, sure doesn't go to many gigs and sure doesn't know perc players and guitarists of high standards when they stare him in the face. There were a couple of ragged endings, admitted, and Jim missed a few cues and notes but this was a first night of a long tour and that happens, I guess. I felt proud to be there, as the moments of pure magic (Riding The Waves, All In A Life's Work (Lisa's guitar, WOW!), "Compared With You, "Sebastian" "Back To The Farm" etc. etc. far outweighed the couple of fluffs. This is a great 8 piece band and I can't wait til I fly back for the Phil gig in Liverpool – those first-night nerves will have settled down I reckon !!'
ROB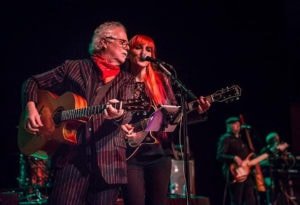 'Breathtaking!!!
The Mona Lisa twins enhanced what was already a great line up and a set list chosen by the fans. I thought they were brilliant and personally I liked the way Steve slipped them in with their songs, showing them loads of respect for being the brilliant musicians they are.
I love the demo version of MMS. Brilliant in my opinion and one of many highlights. The thing that will live with me forever though, is that simply unbelievable version of Best Years. I was totally moved by that and the twins were amazing in helping make that song what it was last night.'
Rich W

'Agreed re Best Years song. At the end, the players gathering around the main man, playing improvised music, riveting. That section will live long in the memory. Spell-binding, to be completely honest. One guy I heard talking to his friend after, was saying he's been in Manchester and that didn't happen, so like Steve always says, "never the same twice", but I hope future audiences get to witness that special moment. Still buzzing.'
Groverhead
Read more on the official Steve Harley forum.
We're looking forward to seeing you somewhere along the way. Still two more weeks to rock 'n' roll!
With love,
Mona & Lisa