All good things must come to an end. In this case it is the end of a wonderful tour with Steve Harley & Cockney Rebel that we have been looking forward to playing for almost a full year. Now that it lies behind us we want to thank everyone involved in making the last month such an unforgettable experience.
For us it has been three amazing, fun, educational and inspiring weeks of touring the UK, being part of Steve's band and getting the chance to showcase our own music to his audiences, too.
It has been a novelty for us not fronting a band, and we entered new musical territory as touring musicians and backing singers. We fully enjoyed playing around with so many instruments and vocal melodies on stage and we had the freedom to develop and change our parts as the tour continued.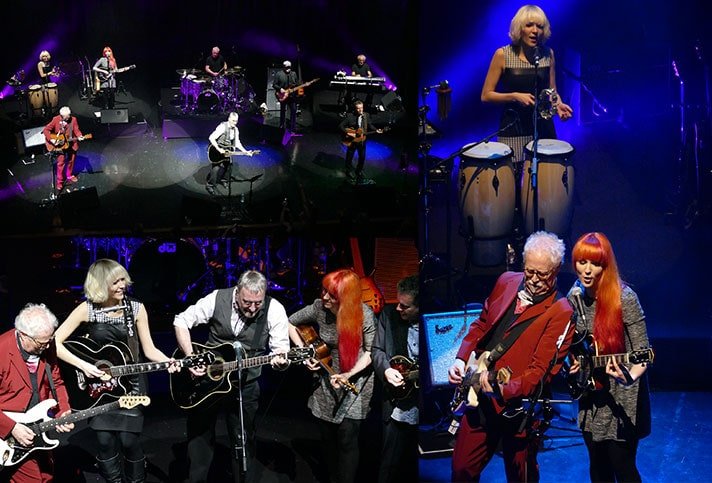 Thanks to Steve's arrangements we got lots of opportunities to show our skills in the solo parts. We were extremely proud of Lisa joining a guitar duet with Jim Cregan, Mona a vocal duet with Steve Harley and even a harmonica solo centre stage. Not to speak of Steve's generous introducing of us as the MonaLisa Twins and two of our own songs that we got to play to his attentive and equally benevolent audiences during his show. In the first set we were usually playing our song 'I Don't Know Birds That Well' as an acoustic duo. In the second half we had the honor of Stuart Elliot (drums), Marty Prior (bass) and Duncan Mackay (keyboards) backing us to give our 'Wide, Wide Land' that powerful and atmospheric sound.
As Steve always says the show was 'never the same twice'. He conducted and presented to his fans an ever-changing, growing, multifarious performance with great solos, lots of improvisational, session-like parts to show each musician's strongest points. It created excitement on and off stage as it turned the show into one of the few these days that aren't over-produced, polished and always 'on the safe side'. There was an element of risk and uncertainty in each night's performance which kept us all on our toes and the audiences on the edge of their seats. We were proud to be a part of that!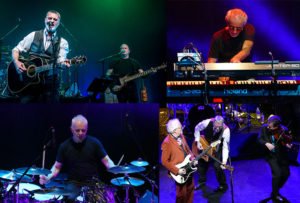 All in all it has been a very fulfilling and emotional experience to contribute to a band and show like this, especially because it has been such an outstanding musician- and friendship between the band members, and also because the fans interacted so passionately with Steve and us on stage. We can only say we certainly grew personally and as musicians while having a blast along the way.
2500 miles on the tour bus, 16 shows and 22 days later we are now back home in Merseyside, exhausted but happy. We played to about 15000 people during the last weeks and shared the stages with legends and world-class musicians.
Thank you to Steve Harley and (in order of appearance in the photo down below) Stuart Elliot (drums), Marty Prior (bass), Jim Cregan (guitar), Duncan Mackay (keyboards), and Barry Wickens (violin, guitar, mandolin) for their outstanding musician- and friendship.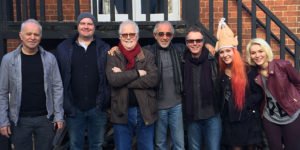 Thanks to Roger Searle (Tour Manager, Lighting – on the photo below in the white shirt left) and Simon Grocott (Assistant Tour Manager, Steve's Personal Assistant – last row center) for the perfect organisation and keeping things running so smoothly. To Andy Linklater (between Mona and Lisa) and John 'JJ' James (unfortunately not in the photo) for making us sound good (on stage and in the house), to Matthew Hunter (sitting to the right), Swapan Nandi (with glass), Daniel Paine (next to him) and Andy Wheeler for their technical backline support, selling merch, driving us around safely, and all of them for looking after us and being fantastic companions.
It was an enormous joy for us being surrounded by such an experienced and hilarious crew and of course all the legends that make up the original Cockney Rebel line-up. We have been welcomed and accepted as part of the band from day one and were valued as band members from everyone in the group which we did not take for granted. The love and respect that could be felt each night on stage was overwhelming and we are thankful from the bottom of our hearts to Steve Harley, the band and the audiences for their support.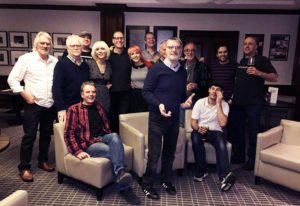 Lots of laughs have been shared on and off stage and many memories were made to be remembered forever. If you saw us for the first time during one of Steve's concerts and are still sticking around we warmly welcome you to the MonaLisa Twins family and are looking forward to sharing more of our own music with you! Thanks to everyone who came to see one or more shows and for the great feedback we got live and on our and Steve's social media …
'Well The Best Years tour is over but what a pleasure to hear the album that was pivotal to my musical education played so well. There seemed to be a real joy on the stage as Steve brilliantly mixed the old with the new! It was great to see Stuart, Jim and Duncan back together again superbly assisted by Barry and Marty. And The Monalisa Twins are a brilliant breath of fresh air. It's been great to read the wonderful reviews online and to get a glimpse of the joy via social media of the fans' massive enjoyment of the shows! … A big THANX to all concerned for a fantastic tour … '
Stewart G

'Excellent end to the tour last night. No great surprises during the first half with a fans' choice of songs that hardly 'pushed the boat out' so to speak. Thought 'Nothing is Sacred' was one of the best live versions of the song that I've heard. … The second half 'Best Years' performance was spot on … We'll miss the Mona Lisa Twins a lot. Their backing really enhanced so many of the songs … Hats off also to Jim and Duncan. Jim's guitar really stood out as it did back in 75/76. All in all a really successful tour which should be repeated next year with the complete 'Timeless Flight' album. Hands up who would like to see that?? '
Mr Raffles

'What a wonderful end to the tour and who knew there was so much emotion to be felt in Guildford. Steve Harley and his wonderful band worked a potentially reserved audience from ripples of applause into a sea of love and appreciation by the end of the evening. The great thing about these concerts is that every one is different but all superb and it is easy to tell from the reviews on this site that no audience has missed out on a quality re-working of this seminal album plus extras. I feel lucky to have lasted the 40 years it's taken to get these musicians back together and yet for me the icing on the cake has been the addition of Mona and Lisa who are more than worth their place in the line-up. I hope to enjoy more of their work on a future SH Tour. … The only sad thing is that now this tour is over. I feel like a kid who has opened his Christmas presents early and no longer has them to look forward to. I may just have to hibernate for the winter and look forward to a Harley New Year.'
Charmpri
Read more on the official Steve Harley forum.
T'was a joy, a great joy!
Have a lovely Sunday,
Mona & Lisa