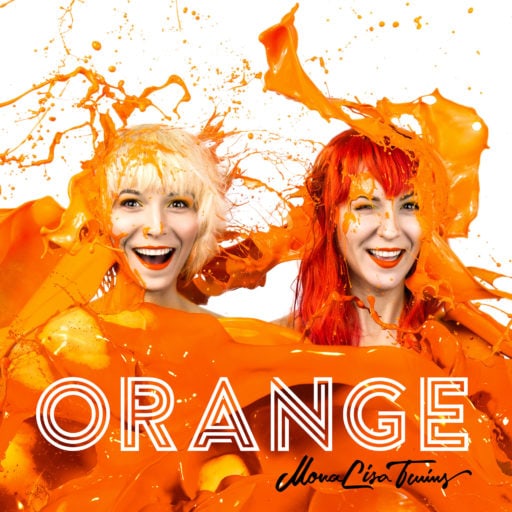 With their release 'ORANGE' the MonaLisa Twins have built on the success of their debut album 'When We're Together' and their deeply rooted love for the classic 60's style songwriting, while delving into new, experimental sounds that elevated their songwriting to the next level.
5 years had passed since the release of original material while the Twins played countless shows all over Europe, moved to England, played a 2 year residency at the legendary Cavern Club in Liverpool, recorded at Abbey Road Studios, had weekly spots on BBC Radio stations, toured with Steve Harley & Cockney Rebel, recorded with Woodstock legend John Sebastian and learnt a lot of valuable life lessons, all of which would influence ORANGE.

Packed with witty tongue-in-cheek humour as well as a more critical observation of all things love, social change, friendship, trust, the past and future and the generally unsettling direction society seems to be taking, they managed to produce an album that is incredibly versatile yet flows very naturally.
"They're fabulous, sure as you're born!"
"The MonaLisa Twins? Wonderful music."
"I adore this record. Totally sublime. Top-notch electric guitar; fierce sounding chops and solos. Terrific songs – 'Club 27' is a monster example of modern pop/rock. 'Still A Friend Of Mine' gets to the heart and plays emotional havoc. The whole album is brilliantly constructed. There are five or six potential top ten hits on this brilliant album."
"ORANGE – Magnificent album! Hope it gets to the TOP of the Pops!!"
"Hard to choose a track. Each has its merits, and several are very, very Beatles-influenced. 'No More Worries Company' is my favourite track at this hour. Great album – superb production values and fabulously clear diction."
"ORANGE is a breath of fresh air in the relentless sludge of today's pop music."
Single - 'Waiting For The Waiter'
First introduced to each other more than 2 years ago, Mona and Lisa were finally able to take Woodstock legend and founding member of the Lovin' Spoonful (Summer in the City, Do You Believe In Magic, Daydream, … ), John Sebastian, up on his offer and collaborated on two of the album tracks.

John is playing blues harp on 'Waiting For the Waiter' as well as the Woodstock homage 'Once Upon A Time'. He even travelled all the way from the States to the UK to play the part of a mysterious blues man in the Twins' official music video.
Single - 'Still A Friend Of Mine'
Single - 'Once Upon A Time'
The MonaLisa Twins, with 25-year-old actual twins Mona and Lisa Wagner fronting the band, are one of the very few modern groups who continue the tradition of song-writing that took off in 1963. They bring back what has been started 50 years ago and write modern songs in the 60s Beat music tradition, reviving the genre with a fresh twist without sounding pop-ish or trivial. Their signature features are their close harmonies and wiry, bright guitar sound, and the mix of humour and depth in their music speaks to a wide range of international audiences.
They were born into a country (Austria) that celebrated classical and folk music and which was rather detached from the humorous, easy going 60s spirit you associate with England or the States. They picked their parents wisely though. Their father is a musician/song-writer himself and, during the 80s and 90s, was running a recording studio producing renowned (inter)national artists including a Grammy winner. Together with him and their step-mother they fully concentrated on the Twins' music and over the years built up a full-time family business.
10 years, 7 albums, over 100 music videos, millions of YouTube views, tens of thousands of subscribers and a lot of blood, sweat and tears later, they are living and working in Liverpool/UK. With a host of live shows in Europe, the UK, USA and Australia, a recording session in Abbey Road Studios, a UK tour with Steve Harley & Cockney Rebel, a 2-year long residency at the legendary Cavern Club, regular features on BBC and international radio stations, a Glastonbury performance and collaborations with Woodstock legend John Sebastian under their belt, they have come a long way since daydreaming about the future at the age of 13.
What they are most proud of? They did it their own way. Every video they released, every song they've written, every album they put out, every blog post on their social media, and even their website comes from the collective brain juice of their small but mighty team. That doesn't mean at all that they don't want or need the help of other people, but it means they're willing to work twice or thrice as hard so they don't have to give away their creative freedom or values for any short-term success. They created their own label and took DIY to a whole new level.
If you, too, love and treasure the quality song-writing and positive, witty spirit that exploded in the Sixties, the MonaLisa Twins might be the band you've been waiting for for the last 40 years.
Fan Testimonials (about ORANGE)
The Mona Lisa Twins knock it out of the park with ORANGE. They take a variety of styles and play with them with dexterity, ease and a confidence seen only in history's talented best. The Mona Lisa Twins present themselves lightly with lots of humor, but their lyrics are intelligent, deep and conscious like we haven't seen since the 60's. While their sound is reminiscent of the 60's and 70's, it still sounds new and fresh. The harmonies in ORANGE are among the best ever recorded, with the guitars keeping up with the pace. Orchestrations are simple yet to the point, without ever overdoing it. It's clear talent overflows in every direction. ORANGE is a collection of diamonds, where 'Still A Friend of Mine', 'Count On Me' and 'Once Upon a Time' shine a slightly above the rest, if that's at all possible.





All their songs have such carefully crafted lyrics and the broad use of instruments makes ORANGE an audio delight to the ears. Old fans won't be disappointed by the evolution of their music and new fans will be introduced to a rare form of music today. Real instruments, real singers, real music that is a pleasure to listen to and has such great meaning and depth. These girls have grown into young adults with a keen sense of what the world needs to be a better place through their music. Love is all you need and staying groovy is something you can do no matter what your age is. The world needs this music that's for sure.
Richard McGlenn (verified owner) – 


MonaLisa Twins
Building 7
Wilson Business Park
Monsall Road
Manchester
M40 8WN