In comparison to our usually quite hectic schedule we felt oddly relaxed during our trip to Finland. Yes, there was a whole lot of travelling involved and we played a busy concert there. But the beautiful Finnish countryside, the perfect weather, and the extremely hospitable people made us feel like we were on holidays. The Finnish sauna and the dips into the nearby lake didn't hurt either 😉
The 'hard day's night' for us was playing a full 90 minutes Cavern Club set for all our Finnish fans and the festival audience of Parikkala – on a top-notch equipped stage with a bombastic sound created by two very good sound engineers who definitely knew their job.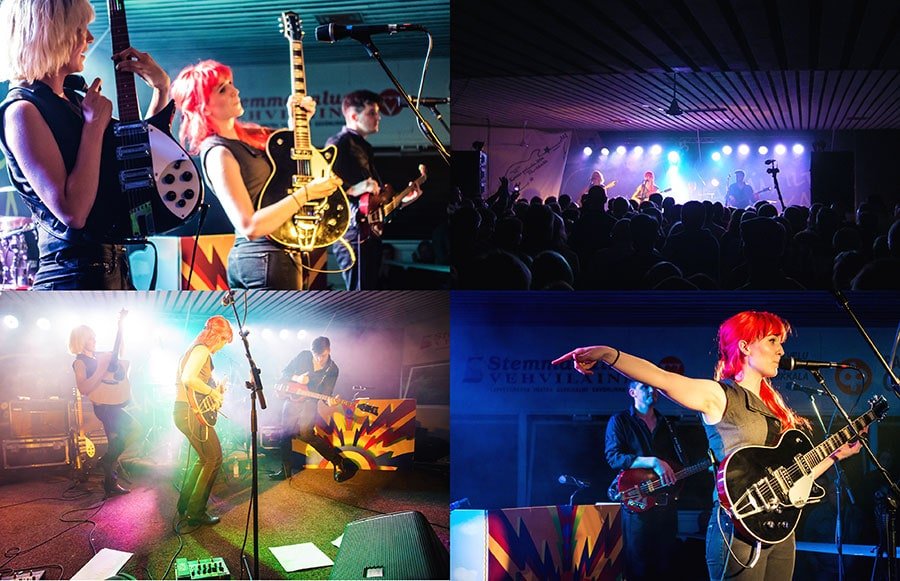 The 'hard day' before the 'hard day's night' however, consisted of us being invited to visit the Finnish Border Control Station near Parikkala, where we learned about the daily work at the Russian border (which seems fun in summers but is also to be done at – 35°C and covered in thick snow). We also got to watch trained black German Shepherd dogs sniffing for and also finding very small items like a paper clip in the grass. After that we were genuinely surprised with a campfire picnic on the peaceful lakeshores. A lovely couple was busy with brewing smokey coffee and baking pancakes over the open fire for us, which we topped with hand-picked blueberries from the woods and self-made honey from Finn-bees 🙂
To prevent things from getting too tranquil and serene our hosts drove us out to the "Sculpture Park of Veijo Rönkkönen" afterwards. During his whole lifetime this artist had built hundreds of creepy looking concrete figures that he plastered his garden with, mostly depicting himself mastering all these unbelievable Yoga positions. But he also created animals, sculptures, and figures that feature glass eyes and real dental prostheses. That place is now a famous tourist spot, and while it's totally fine to walk through it during the day you don't wanna be there at witching hour. Thank God the Finnish nights are very short at this time of the year, it doesn't even get fully dark.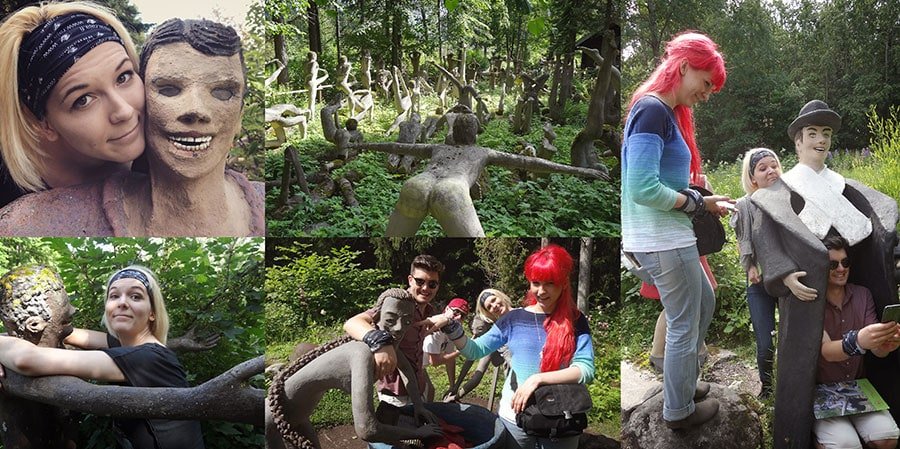 This really 'hard day' continued with sunbathing and swimming in the lake before we got ourselves ready for soundcheck. That's when we first got to see the festival grounds, the stage and impressive technical equipment. We checked the sound, took photos and chatted with other bands while the 'hard day' slowly turned into its night. By the time our show started (10 pm) the place was crowded and during the performance everyone seemed to be bopping and singing along. It was a beautiful sight and we enjoyed our time on stage immensely. We even premiered our new single "That's Life" and our recent cover of "Paint It Black" which both went down a storm.
The 'hard day's hard night' ended with selling lots of CDs and T-shirts, writing autographs, taking photos with everyone, and enjoying Jiri Nikkinen and his band who played an absolutely magnificent version of the whole "Magical Mystery Tour" album.
The next morning we left Parikkala at 8 am to drive back to Helsinki airport, our bodies firmly planted and fastened in the bus seats but our minds roaming either in dreamland or still in Parikkala where we all had such an amazing time.
We thank Raine and his team for an absolutely smooth and perfect organisation, Pete for being our roadie, chauffeur and 'security guide' through 'Sleepy Hollow'; Pasi, his officers and dogs for the trip to the Russian border and the sweet couple who surprised us with that delicious picnic in the woods. You all made these two days unforgettable and highly inspiring for us! And while we're on it: We don't thank YOU, legions of mosquitos, although you also had some 'hard days and nights' trying your best to make that trip unforgettable for us.