Translation:
MonaLisa Twins rocked Leopoldsdorf
For the MonaLisa Twins and their band an extremely successful live concert season found its worthy finale at the Shamrock pub in Leopoldsdorf. With every concert they got more experienced, their repertoire became bigger and their fans grew in large numbers. If you want to keep yourself up to date on the twins' activities, please visit www.monalisa-twins.com.
We thank the Austrian newspapers "NOEN" and "Bezirksblätter" for their generous reviews of our live concert at Shamrock Pub / Leopoldsdorf,
Mona & Lisa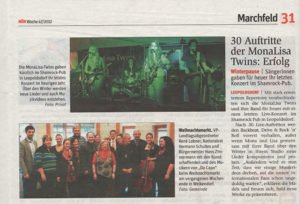 Translation:
30 concerts of the MonaLisa Twins: Success
Winter break / Singers played their last live concert for this year at Shamrock pub.
LEOPOLDSDORF / With a much larger repertoire than before the MonaLisa Twins and their band said goodbye for this year and gave their last live concert at the Shamrock pub in Leopoldsdorf.
After 30 live shows Backbeat, Drive & Rock 'n' Roll will fade away for the winter months unless Mona and Lisa are going to write new songs and rehearse with their band in their studio. "Plus it's time to film some music videos which our international fans are already eagerly waiting for", the twins explain and are looking forward to presenting some new works soon.